About Klein Bath Systems of Greater Erie and Tri-State Area
Local Bathroom Remodelers in Ashtabula, Jamestown, Erie
and the Surrounding Areas in Pennsylvania, New York, and Ohio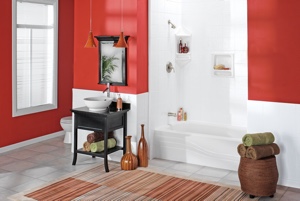 Klein Bath Systems has been remodeling and refinishing bathrooms for over 30 years. Our top priority is total customer satisfaction and we back it up with warranties on products and workmanship. We have been a premier bathroom remodeling company in the Erie area since 1982.
Choosing who remodels your bathroom is a matter of choosing the quality of the materials, the quality of workmanship and how reasonable it all costs. Even though we can remodel your bathroom in just one day, it will last for many, many years! We are the experts when it comes to bathroom remodeling. We can provide you with bathtub liners, bathtub and shower surrounds, walk-in showers, bath-to-shower conversions, bathtub and tile refinishing, and more.
We provide bathroom remodeling products and services in Northwestern Pennsylvania, Southwestern New York, and Northeastern Ohio. This includes Erie, Jamestown, Ashtabula, Meadville, Conneaut, Dunkirk, Geneva, Fredonia, North East, Edinboro, Titusville, Corry, Jefferson, Waterford, Girard, Union City, Fairview, and the surrounding areas in PA, NY, and OH.
Looking for a price? Get a no cost, no obligation free estimate.